Passport to Life
Explore God's Word, Experience God's Blessings (Revised and Expanded)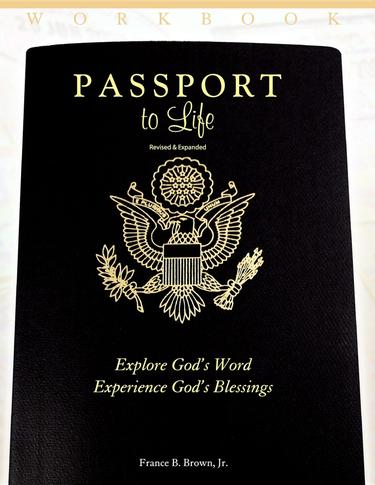 Additional Book Details
For far too many Christians, life is little more than a series of mishaps, defeats and disappointments. Indeed, life can be difficult (Rom. 5:3), but it was never meant to be the hopeless grind and empty existence that many believers endure. To be sure, God has endeavored to take us on a journey--a magnificent journey; from hopelessness to hope, from emptiness to fulfillment, from worry to peace, from failure to victory, from regrets about the past to anticipation about the future, from resentment to acceptance, from darkness to light. Would you like to go? Well, you'll need a passport.
The Passport to Life is a guidebook for exploring God's Word. It is the printed version of France Brown's life changing class on Transformational Bible Study using the skills of observation, interpretation and application. Here, he draws on decades of teaching youth and adults around the world how to interpret Scripture and how to apply biblical truth to every life situation.
In this step-by-step workbook, you will be guided with tips, tools and techniques that will empower you to think biblically for yourself, to nurture your own spiritual growth and to guard yourself against false teaching and false ideas. In short it will bless you immeasurably. You will live with stronger faith, greater hope and a deeper love for God, for others and for yourself (Mark 12:30-31).
What people are saying about Passport to Life:
As a result of learning these methods and techniques, I now feel equipped for service in Christ. Scripture no longer reads like a foreign language but like a favorite book that I not only understand but love.
-R. Gensheimer
If you are ready to be equipped with the right tools to combat Satan, this is the Full Metal Jacket!
-J. Eaglin
This is a must for any believer!!
-V. Pena
| | |
| --- | --- |
| Sold By | Transformation Equipping Ministries, Inc. |
| ISBNs | 9780986384103, 9780986384110, 0986384119 |
| Language | English |
| Number of Pages | 120 |